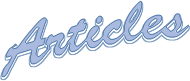 Welcome to the seahorse.org Articles Library!
This is an OLD version of the library page.


Please report how you got here .....
We are always looking for contributions for the library, so if you see something missing and you have knowledge about it, write it up and send it to Marc.
IMPORTANT INFORMATION
Seahorse Facts and Information For New Keepers. Includes information on how to select your seahorse, what type and size tank you need, the temperature and food requirements etc. Consider this the most important document for a beginner to read!
---